Carpet Tile
Dimensions: 12-1/8″ x 12-1/8″
Thickness: 5/8″
Tile Weight: 1.02 lbs
US Patent: #5666772
For estimates or samples, please click the button below.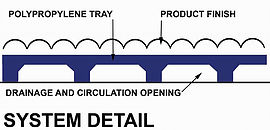 *= Typically Stocked Items
Applications
Balconies

Roof decks

Basements

Trade Shows and Exhibit Floors

Patios, Decks and Docks

Pool and Spa areas

Laundry Rooms
Features
Unbacked Needlepoint Polypropylene Carpet

Drains Instantly

Dries Quickly

Protects your sub floor

Snaps together easily

Uses no adhesive

Mildew and Mold resistant

Carpet has UV stabilization

Helps prevent concrete deterioration

Accepts up to 16,000 lbs of dead Load per square foot
COVERDECK SYSTEMS CARPET TILES are a modular carpet system designed for indoor or outdoor installation. The interlocking tray elevates the 34 oz. unbacked needlepoint polypropylene carpet finish 5/8" above the sub surface allowing the tiles to drain freely.
The snap together design makes installation easy and fast, requiring no special tools or adhesives. Our unique interlock allows the tiles to expand and contract individually to help prevent buckling. COVERDECK SYSTEMS pattered CARPET TILE (US Patent #5666772)
COVERDECK SYSTEMS CARPET TILES can be installed over any hard surface including existing decks. If you are planning on using COVERDECK SYSTEMS CARPET TILES over grass or sand, we recommend using our TEMPFLOOR as a base. Installation on roof decks may require a PROTECTION MAT (product #2002). 
*Substrate should be designed with proper pitch for drainage