Welcome to Coverdeck Systems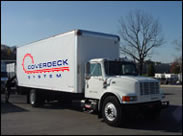 Established in 1994, Coverdeck Systems offers a wide range of modular flooring products for temporary or permanent installations.
The corporate headquarters are located in Wilmington, Delaware and our distribution centers are in Wilmington, Delaware and Chatsworth, Georgia.
Patented in 1997 (Patent #5666772), Coverdeck Systems elevated carpet tile is a versatile option for all outdoor applications while it maintains the warmth and comfort of a carpet.
Many coating manufacturers have approved our products and they have been selected as the ONLY covering at an increasing number of high-rise buildings across the country.
All of our products are a snap to assemble and disassemble, allowing for quick and easy installations and breakdowns. Coverdeck Systems sells direct and through resellers.
If you have any further questions or would like to purchase or rent, please feel free to call us on our toll free (US) number 1-800-550-3325 (International) 1-302-427-7578 or email us.
No one can beat our level of quality and service
Experience
Quality
Respect
Customization
Satisfaction