Eterno Pedestal Paver System
Self Leveling Pedestal Paver
For estimates or samples, please click the button below.
Self Leveling Pedestals: Justify up to 5% slopes.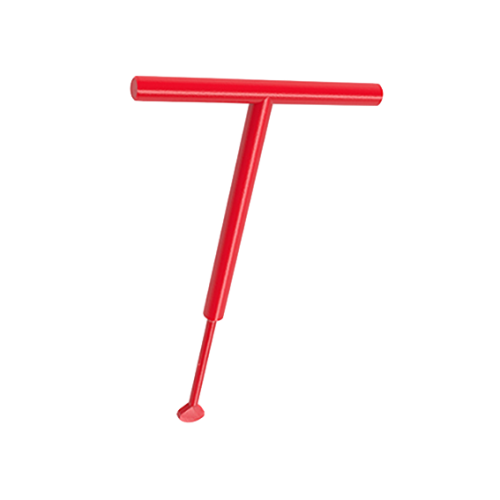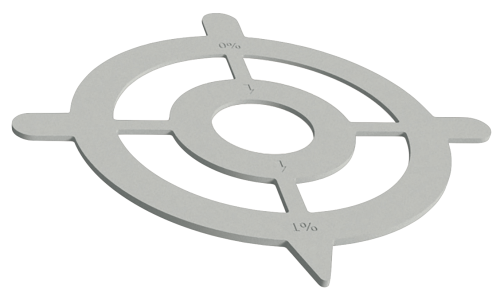 The adjustment of Star.T to the millimeter makes it possible to realize elegant and stable floorings, speeding the installation and giving solidity and precision to the entire pavement.
STAR.B is the only extension that fits Star.T, that enables to reach NM1 and SE0 adjustable supports; only one height for a versatile and simple product: it is placed under the Star.T increasing its height by 5mm and with the possibility to add more Star.B on top of eachothers in case of need.
Using 2 Star.T Extensions with the Star.T support you can reach a height of 25 mm: from this height you can use the NM supports.
Using 3 Star.T Extensions with the Star.T support you can reach a height of 30 mm, height beyond which it is possible to use the SE supports.
Hercules ScrewJack Pedestal Paver System
The Hercules Pedestal System is designed to provide an durable support for a raised surface. This system can provide noise reduction along with improved drainage and precise joint spacing. Minimal maintain cost is required with Hercules Screwjack Pedestal because of easy access underneath. Beautiful and precisely elevated spaces can be created on roofs, plazas, and many more spaces.
Hanover Pedestal Paver System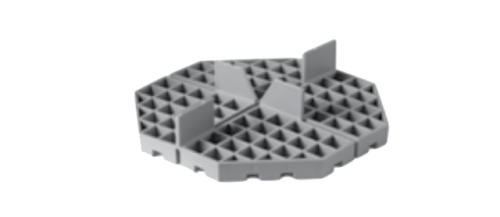 High-Tab® Pedestal
7" across flats, 5/8" thick, 1/8" spacers • for heights 5/8" up to 2"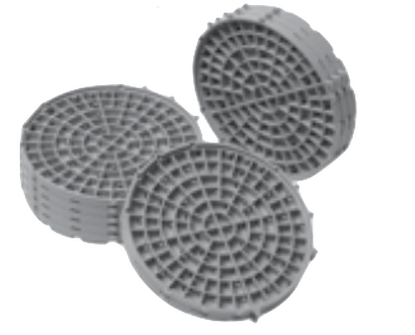 Compensator® Leveling System
7 3/4" diameter, 1/2" thick
• can be used under the Elevator® System to compensate for roof slope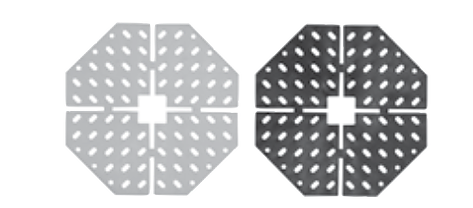 Leveling Shims
7" across flats
black : 1/16" thick, white : 1/8" thick
• can be used on top of the Elevator® System for final leveling adjustments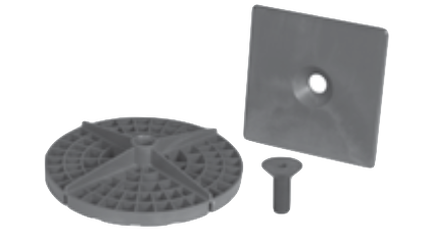 Guardian® Paver System
Top Plate: 6" sq, Bolt: 3/4" diameter Base: 7 1/2" diameter
•can be used on top of the Elevator® System; for wind uplift
resistance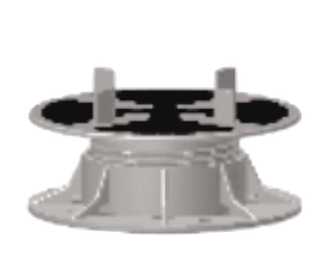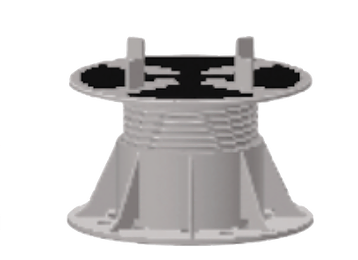 3" Base & Top
   3" – 4 3/4"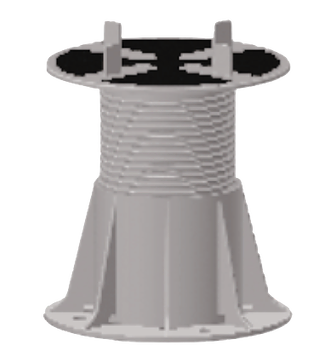 4" Base & Top
4 3/4" – 7 3/4"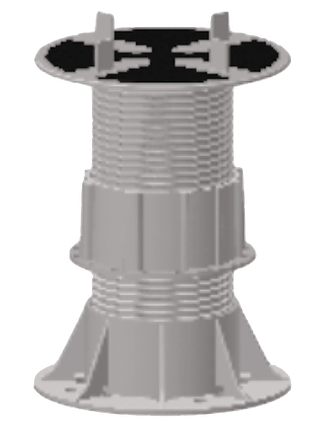 3" Base,
4" Top & Coupler
7 3/4"- 10"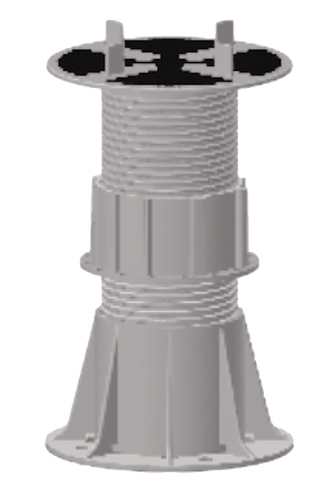 4" Base,
4" Top & Coupler
9"- 12"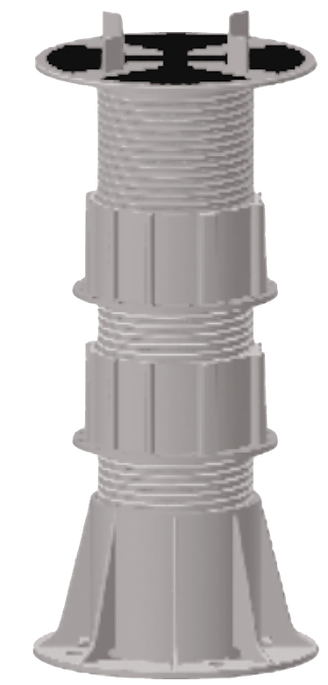 4" Base,
4" Top & 2 Couplers 12"- 16"
Snapjack™
Elevated Interlocking Corner Connectors
Patent Pending
Top View
(Disconnected into 4 Pieces)
Each Corner Engraved with Numbers
Bottom View
(4 Corners #1,#2,#3,#4 Snapped Together)
Diameter – 5-5/8″
Height – 1/2″
Static Load – 8,800 lbs
Support – Surface supported by 64 Legs
Locks – 16 latch locks; 4 sides w/2 male Parts; 4 sides w/2 female parts
Flammability – Meets UL94-HB standards
Material – High Impact Polypropylene
Fungus & Mildew Resistant – Yes
Service Range – -30° to +170°
Tensile Strength (psi) – ASTM D638 5300
Flexural Modulus –  (105 psi, 73° F) ASTM D790…1.6
Tensile Modulus –  (105 psi) ASTM 638…………….82
Specific Gravity – ASTM D792………………………….093
Specific Volume – In3/lb.………………………………30.5
Electrical Specifications
ARC Resistance, –  SEC. ASTM D495………………150
Dielectric Constant –  (1M Hz)…………………………2.5
Dielectric Strength –  (Volts/Mil………………………660
Resistant to – Weak Acids, Weak Alkalis ,Strong Alkalis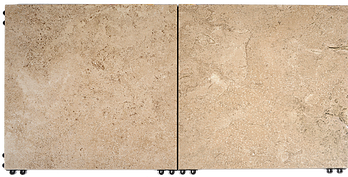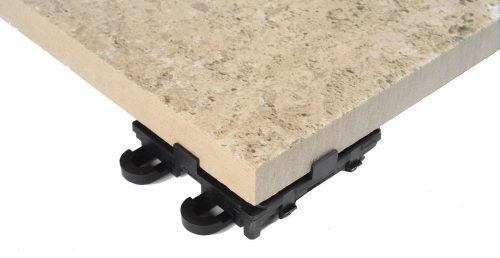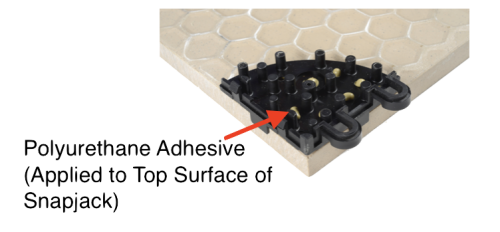 3.2 mm thick 9 in. diameter

(For Use with Wood Structural Panels) Used to Create Proper Spacing and prevent lateral movement

(For Use with Wood Structural Panels) Used for Stacking Snapjacks & various other applications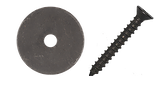 (For Use with Wood Structural Panels) Provides Wind Lift Support

Flexible rubber pesdestals can accommodate the subtle freeze thaw expansion that may occur with some materials while at the same time protecting the materials below.
Composition: SBR Rubber
Shore Hardness: 80 (Approximate.)
*Atlas Rubber Pedestal with Shim
This lightweight stackable and reusable pedestal can ensure improved drainage, and precise consistent joint spacing.
Composition: High Density Polypropylene
Low-Temp. Brittleness (ASTM D 748) -96 F
Softening Temperature (ASTM D 1525) 260 F
*Atlas Plastic Pedestal
These plastic pedestals provide and ensure improved drainage along with precise and consistent joint spacing.
Composition: High Density Polypropylene
*Adonis Plastic Pedestal