Weatherstone Composite Deck Tiles
Weatherstone Composite Deck Tiles
Material: High-Density Composite
Dimensions: 12-1/8″ x 12-1/8″
Thickness: 1-1/4″
Tile Weight: 3.5 lbs
For estimates or samples, please click the button below.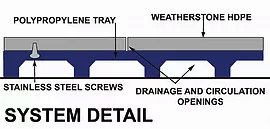 Composite Deck Tiles Available in All Colors & Finishes!
Applications
Roof Decks

Balconies

Wood Decks

Patios

Porches

Sun Rooms

Pool Decks

Walkways
Features
Will Not Split, Crack, or Splinter

50 Year Warranty

Low Maintenance

No Noticeable Fading

Water Does Not Penetrate

Mold and Mildew Resistant
Why use Weatherstone Composite Deck Tiles?
Weatherstone deck tiles is the ultimate product for flat surfaces on exterior use, especially on structural concrete decks in marine environments. Weatherstone resists weathering, mildew, and mold.

Huge Savings – Why replace your wood deck or concrete patio when you can simply install Weatherstone tiles directly over the existing surface?

All you need is a rubber mallet to install your new deck tiles, (Tiles can be cut to fit with a table saw and or jigsaw) Watch our Installation slide show on YouTube!

Easily removed and re-installed for inspections or remedial repairs to the subsurface.

Easy cleaning
Coverdeck Systems® WEATHERSTONE COMPOSITE DECK TILES  
Made for residential or commercial applications. The composite surface is made from RECYCLED High-Density Polyethylene (HDPE) mixed with a mineral foam binder creating one of the most advanced and ECO-friendly composite formulas available. Covered by a 50-year warranty that the material will not split, crack, or splinter.
Our snap lock together design makes installation easy and fast, requiring no special tools or adhesives. All you need is a rubber mallet to snap together male locks into female loops. If cutting tiles to fit is needed,  a table saw or jig saw will be required. The unique design of the interlocking tray with its 400 cylindrical supporting legs promote drainage and air circulation; water sweeps through and under the tray taking with it dirt, sand, etc from the surface providing a self-cleaning action. The flow-through design helps keep the WEATHERSTONE COMPOSITE DECK TILES and its subsurface clean and dry.


Matte finish may have variations in texture

Due to the nature of recycled plastics, there may be color variations between batches

With Polyethylene material, static electricity may occur

Gaps May Vary 1/16″ to Provide Proper Drainage

Weatherstone Composite Deck Tiles, made with recycled polyethylene, may telegraph waviness from an uneven substrate. Prepare the substrate as needed to ensure a flat surface.
How To Remove Scratches From Weatherstone Composite Deck Tiles
Weatherstone Installation Process